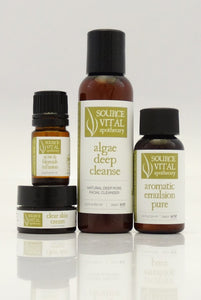 Source Vitál Apothecary
Acne Cleansing Starter Kit
Regular price
$19.99
$0.00
Unit price
per
Start Your At-Home Acne Care Routine
This Source Vital kit offers a good start to addressing your acneic skin by building an at-home skincare routine. 
This 4-step kit includes: 
Algae Deep Cleanse (2.23 fl. oz.)
Acne & Blemish Infusion (0.23 fl. oz.)
Lemon Gel Cleanser (2.23 fl. oz)
Clear Skin Cream (0.23 oz. net wt.)
What's included
Algae Deep Cleanse – Like no other cleanser you have used before, this active seaweed formula penetrates deep into pores leaving the skin thoroughly clean with a refreshing tingling sensation. Great for purifying the feel of acne prone and congested skin.
Acne & Blemish Infusion – A complex blend of aromatic oils and carrier oils formulated as an excellent spot treatment that purifies, calms and effectively improves the appearance of acne and blemishes.
Lemon Gel Cleanser-This cleanser is expert at cleansing oily skin without leaving it feeling dry or tight. Fragrant with Lemon Essential Oil and botanical extracts, this cleanser will remove make-up, dirt and grime from your face without upsetting the delicate pH balance. Use a small amount on face and neck to begin your evening regimen.
Clear Skin Cream – A lightly moisturizing lotion formulated with a delicate blend of seaweed extracts and essential oils to soften and balance oil production.
Recommended Use
The products in this kit are excellent for a morning and nighttime new skincare routine. Begin by cleansing your face with Algae Deep Cleanse. Put a couple of drops on your fingers and massage the cleanser into your face. For more of a deep pore cleanse, let sit on face for 1 to 2 minutes before rinsing off. Dry off your skin.
For your next step, spot treat blemishes with Acne & Blemish Infusion. Acne & Blemish can be used morning and nighttime too, but pay attention to your skin's reaction in case it is too drying. 

The last step of your new routine is to apply a thin layer of Clear Skin Cream with your fingertips to your entire face.

Gentle and Effective, the Acne Cleansing Starter Kit works to supply daily nutrition and bring balance to acne-prone skin. No harsh chemical acne products here!
---