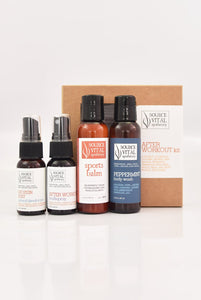 Source Vitál Apothecary
After Workout Kit
Regular price
$17.99
$0.00
Unit price
per
Great Kit for Your Workout
Enjoy this 4-piece set that has everything you need post workout to eliminate body odor, soothe those tired, sore muscles and give yourself an aromatherapy boost. Perfect gift for your active friends! 
This Kit Includes:
Deozein Zest Natural Deodorant Spray (1.01 fl. oz.)
Peppermint Body Wash (2.23 fl. oz.)
Sports Balm (2.23 fl. oz.)
After Workout MultiSpray (1.01 fl. oz.)
Kit Includes: 

Deozein Zest Natural Deodorant Spray – All-natural, aluminum-free deodorant with a citrus scent. Purifying seaweed extracts, natural mineral salts and pure essential oils work to protect the skin from the causes of B-O.
Peppermint Body Wash  – Bath and shower gel designed to invigorate and recharge body and mind. No harsh foaming agents here, this sudsy body wash is made with safe and natural ingredients.
Sports Balm – Relief for sore, tired muscles. Feel better with this natural Menthol and essential oils of Eucalyptus, Wintergreen, and Peppermint. Algae extract is included to lend a feeling of strength to tired or arthritic joints.
After Workout Multi Spray – Formulated with 100% pure Spearmint and Peppermint essential oils, this multi-purpose spray is the perfect recovery after exercise. 
Recommended Use
Use Deozein Zest Natural Deodorant spray before and after exercise to keep body odors at a minimum.
Post workout take a cool shower using Peppermint Body Wash. Apply directly to skin, using circular motions to lather and cleanse.
Pat dry, Spray on Deozein Zest and apply Sports Balm directly to any areas feeling sore and tight. 
Finish by lightly misting your body with 2 or 3 sprays of After Workout MultiSpray. To remove sweat smells, spritz clothes, shoes, gym bags and lockers.
Note: Do not spray directly on wood or rubber surfaces.
---