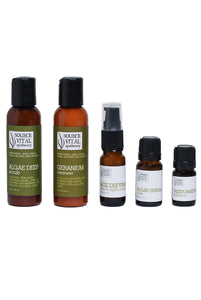 Source Vitál Apothecary
Ageless Skin Starter Kit
Regular price
$29.99
$0.00
Unit price
per
Naturally Counteract the Visible Signs of Aging
Hydration, purification and nutrition are the keys to effectively defy aging. We promote younger-looking skin in every product we make.

This kit is specially formulated with our unique blend of seaweeds, essential oils and pure plant botanicals to naturally counteract the signs of aging. Naturally effective ingredients equal clean, soft, youthful skin.
The 6-piece kit includes:
Algae Deep Scrub (2.23 fl. oz.)
Geranium Cleanser (2.23 fl. oz.)  
Algae Serum Rose (.4 fl. oz.)
Restorative Infusion (.23 fl. oz.)
Age Defying Day & Night Cream (0.4 fl. oz.)

Features & Benefits
With daily use, establishes a healthy skin care routine
Fights the signs of aging by improving the appearance of fine lines & wrinkles
Promotes the feeling of skin renewal with a softer, brighter, more youthful-looking complexion
Stimulates gentle exfoliation of dead skin cells
Balances, nourishes & hydrates skin
Skin feels tighter, firmer
Protects skin from environmental pollutants
What's included
Geranium Cleanser – This pure botanical cleanser removes make-up and pollutants without upsetting the skin's delicate pH balance. Geranium, with its fragrant & balancing properties, is this cleanser's star ingredient.
Algae Serum Rose – Boosted with Rose Essential Oil, Aloe Vera, Green Tea and Cucumber fruit extracts, this simple, but effective, serum is hard to beat. Aloe Vera is famous for its gentle soothing properties. Green Tea is known for its soothing and anti-oxidant properties. Cucumber is cleansing, helping to tighten and tone the skin's appearance. Rose Essential Oil is known for promoting youthful, healthy looking-skin and lovely scent.
Restorative Infusion – A blend of essential oils and nutritive carrier oils formulated to stimulate, hydrate and improve visible signs of aging skin.
Age Defying Day & Night Cream-Supercharged with more than 20 active botanicals, prebiotics and vegan Hyaluronic Acid, this lightweight cream effectively hydrates like a moisturizer while infusing the skin with active nutrients like a serum.

Algae Deep Scrub-Our 2-in-1 facial cleanser and exfoliant combines the deep pore cleansing benefits of Algae Deep Cleanse enhanced with gentle micro exfoliants that smooth away dry dead skin without aggravating or upsetting the skin. Can be used several times a week as your morning cleanser or in the evening when more exfoliation is needed. 
Suggested Use
Morning Routine:
Step #1 – Cleanse face and neck with Geranium Cleanser. Rinse thoroughly with water.
Step #2 – While the skin is still damp massage 7 drops of Algae Serum Rose and 4-7 drops Restorative Infusion onto the face and neck.
Step #3 –
Finish by protecting skin with a few pumps of Age Defying Day & Night Cream.
Night Routine:
At night repeat steps 1 through 3 but massage in Night Repair Serum onto face and neck in place of Soothing Cream.

Use morning and night routine every day for best results.
FYI
How Source Vitál works
Aging, mature skin becomes demineralized through the years.
All Source Vitál Apothecary products are formulated with a unique blend of seaweed, botanical plant extracts and 100% pure essential oils. Our products contain a high concentration of active ingredients formulated specifically to produce results and feed the skin.

High levels of alginic acids found in our algae work to improve the feeling of skin's elasticity. Specifically chosen essential oils stimulate skin, leaving a brighter, more youthful-looking complexion.

With continued use of the Source Vitál Apothecary Ageless Skin Starter Kit, we guarantee your skin will look and feel different. A feeling of balance will occur in the hydration of your skin. Skin tone will look more youthful and even. Your skin will defy age!
Understanding Aging & Mature Skin
Magic happens with Source Vitál Apothecary's Ageless Skin Kits and protocols.
Aging, mature skin becomes demineralized through the years. Contributing factors may include stress and diets lacking the nourishment that our bodies need.
From a natural skin care approach, the utilization of products that contain algae and essential oils are just what is needed to combat the visible signs of aging.
Algae feed the skin, with the minerals, trace minerals, vitamins, amino acids, and enzymes that our tissue needs to be healthy. Specifically chosen essential oils stimulate the skin to improve and brighten the complexion. 
---