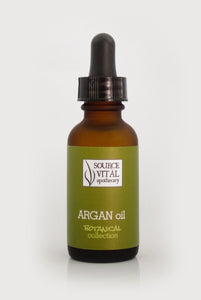 Source Vitál Apothecary
Argan Oil (Organic, Virgin, Cold Pressed)
Regular price
$25.99
$0.00
Unit price
per
Hydrating Oil for Skin and Scalp
Such a great addition to your skincare routine for those with acne, oily, and congested skin.  Both non-greasy and hydrating, it is perfect for skin that congests easily. Rich in Vitamins E & A, antioxidants, Linoleic acid, and Omega-6 fatty acids, Argan not only moisturizes but helps the appearance of inflammed skin. Argan has been proven to help balance the look in oily skin types. It absorbs easily and doesn't clog pores.
Source Vital's Argan Oil is cold-pressed, organic, virgin, 100% pure, and natural. It is free of any chemicals, pesticides, synthetic perfumes, fillers, or carrier oils.
Recommended Uses
For your skincare routine, begin with your cleanser of choice. Pinch the Argan Oil dropper top and shake well before use. Add a few drops of Argan Oil to your toner and apply to your face. Finish with moisturizer. For your body care routine, use Argan Oil on any dry spots. Massage a few drops into your scalp to hydrate and nourish. 
Ingredients
argan oil
---