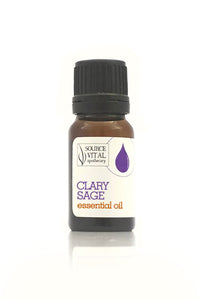 Source Vitál Apothecary
Clary Sage Essential Oil
Regular price
$24.99
$0.00
Unit price
per
100% Pure Clary Sage Essential Oil
A popular ingredient for perfumes, skin care and bath products, Clary Sage has a warm, camphoraceous, bittersweet, musky and slightly spicy aroma. This oil is good to relieve mental fatigue and tension and helps promote a feeling of grounding. Clary Sage oil is believed by some to encourage dreaming, especially helpful in remembering dreams. Helpful for aging and mature skin. 
Clary Sage oil is a middle note and blends well with Juniper, Lavender, Coriander, Cardamom, Geranium, Sandalwood, Cedarwood, Pine, Jasmine, Frankincense, Bergamo, citrus oils, and many other oils. This oil is powerful, so use no more than 3-5% in blends. Sourced from Russia and is extracted from steam distillation from flowering tops and leaves. Clary Sage is not related to the Sage oils. 
Recommended Use
To relieve tension, put 1-3 drops in the palm of your hand and take 3 deep breaths. To encourage dreaming, place 1 drop on your pillow before bed. To add to skincare products,  add 1-2 drops to your facial products. Mix as needed for your perfume blends. 
Ingredients

Our Clary Sage essential oil is 100% pure and natural. It is free of any chemicals, pesticides, synthetic perfumes, fillers, or carrier oils.
---