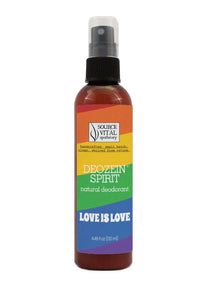 Source Vitál Apothecary
Deozein Spirit Natural Deodorant
Regular price
$14.99
$0.00
Unit price
per
Natural Deodorant benefiting Houston LGBTQ+ Political Caucus
A limited edition addition to the Deozein Natural Deodorant family. Created specifically to support the LGBTQ+ community, Source Vital is donating proceeds from the sales of this deodorant to the oldest LGBTQ+ Civil Rights organization in the South! 
Beyond contributing to a great cause, this deodorant is a perfect addition to your body care shelf! New to natural deodorant? Or simply looking for an aromatherapy change? Deozein Spirit is a great and fresh combination of exotic florals, spices, with a light citrus finish. Enjoy smelling great and feeling fresh all day long! 
The secret is all in our combination of natural mineral salts, Babassu Oil, seaweed extract, and pure essential oils that work together to prevent the bacteria that causes body odor without inhibiting the body's natural ability to expel toxins and regulate body temperature.
Deozein Spirit DOES NOT contain Aluminum chlorohydrate, Aluminum zirconium, Aluminum chloride, Parabens, Phthalates, Triclosan, Baking Soda, and other harsh chemicals.
Not just a cover-up, Deozein eliminates body odor for both men and women.
Available in an easy-to-use spray formula, Deozein Spirit is perfect for anyone looking for an alternative to conventional, chemical-heavy antiperspirant deodorants. Deozein is not an antiperspirant.
Recommended Use

Spray: Apply to clean skin. Use 2 or 3 sprays under each arm or on your feet. Shake well before using. 
Ingredients
Spray
purified water, mineral salt (alum, naturally occurring), caprylyl/capryl glucoside (vegetal cleanser), polyglyceryl-10 laurate (vegetal emulsifer), glycerin, polyglyceryl-10 oleate (oleic acid derived), polyglyceryl-4 caprylate (caprylic acid), decyl glucoside (sugar cane derived), sodium lauroylglutamate (amino acid), diglycerin(vegetal), laminaria digitata extract (seaweed/kelp), babassu oil polyglyceryl-4 esters, citrus sinensis (orange) oil, pogostemon cablin (patchouli) oil, melaleuca alternifolia (tea tree) oil, piper nigrum (black pepper) oil, eugenia caryophyllata (clove) bud oil, boswellia carterii (frankincense) oil, cananga odorata (ylang ylang III) oil, jasminum grandiflorum (jasmine) flower oil, dead sea salts, and proprietary essential oil blend

More about Laminaria Digitata
Laminaria Digitata is one of Source Vital's favorite ingredients. It is sourced from the Brittany Coast of France - where the waters are regularly tested for toxins. This magic golden liquid is cleansing, hydrating, and nourishing for the skin and body. We use it every chance we get to attack the visible signs of aging, and it certainly belongs in Deozein for its purifying properties.
More about Ammonium Alum
Ammonium Alum is a liquid form of the crystal deodorant stone. By itself, most find the crystal stone ineffective for body odor, but blended with our other active ingredients, it kicks up this deodorant an extra notch making it quite effective at keeping you feeling clean and fresh all day long.
---