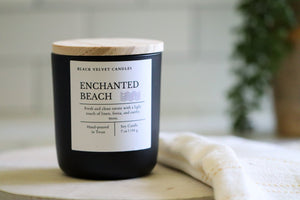 Sanctuary Spa Houston
Enchanted Beach Black Velvet Candle
Regular price
$20.00
$0.00
Unit price
per
Enchanted Beach Black Velvet Candle
Enchanted Beach is the perfect touch of freshness. This clean scent has top notes of ozone and crisp linen, and touches of moss and powder. Moss adds an earthy, green depth, creating a calm and relaxing atmosphere. Relax and light your candle and enjoy the beautiful aroma.
Candle Notes
Top: ozone, linen
Middle: eucalyptus, sea salt, freesia
Base: moss, powder
Candle Care
 The first burn is very important. You must allow your candle to burn minimum TWO hours. This allows the candle to burn evenly through the life of the candle. If not, the candle will tunnel. 
TRIMMING YOUR WICK
When your candle is lit, it will burn and accumulate carbon. This is where you see a mushroom in the wick. Always trim your wicks to ½ inch and remove that mushroom. This allows your candle to have a clean burn throughout its life and perform better overall. You can use a nail trimmer or scissors or even your fingers once the candle has cooled. They also have special wick trimmers that you are able to purchase on my shop. Trimming your wick is one of those things that is it's required!
 Untrimmed wicks can cause the flames to become large which will make your candle burn quicker. Trimming the wick allows the candle to burn slowly and evenly. Untrimmed wicks can make the jar sooth (turn black). If the jar gets too hot, turn it off and wait a few hours before you light it again. Always trim the wick before lighting the candle. You can use your fingertips to remove the excess carbon. 
---