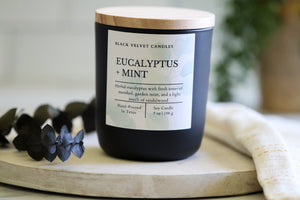 Black Velvet Candles
Eucalyptus Mint Black Velvet Candle
Regular price
$20.00
$0.00
Unit price
per
Eucalyptus Mint Black Velvet Candle
If you are looking for a spa-like scent for your home then this candle is for you. This refreshing and calming candle has a combination of Eucalyptus and Mint along with hints of lavender and herbs. It also has a hint of a woodsy, masculine aroma that evens everything out. 
Once trimmed and lit, this candle will surprise you with the aroma of earthy eucalyptus, mint and a slight hint of lavender. 
Candle Directions:
Please DO NOT leave your candle lit for more than 3 hours. 
Keep out of the reach of children, pets, and drafts. 
Never leave a candle unattended or near anything that may catch on fire such as curtains, draperies, decorations, blinds, bedding, papers and books, etc.
If the candle gets too hot, please turn it off and light it another time. 
TRIM YOUR WICK! This is very important, because if you don't trim your wick, it will cause an enlarged flame which causes your candle to burn quickly and possible a fire hazard. This is a universal candle care that has to be done for every candle you own.
Details
Black Matte Jar
Zinc and Lead-free Cotton wicks
Phthalate-free fragrance oils
Cruelty free
Natural ingredients
hand-poured in small batches
---