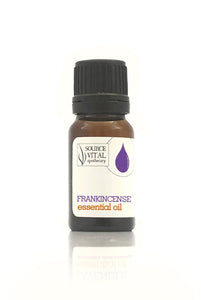 Source Vitál Apothecary
Frankincense Essential Oil (Wild Crafted)
Regular price
$49.99
$0.00
Unit price
per
100% Pure Frankincense Essential Oil
Frankincense, botanical oil boswellia carterii, is often used in cosmetics, for spiritual healing and in fragrances, specifically room fresheners. Source Vital's Frankincense is sourced from Somalia and extracted via steam distillation from gum resin. Aroma is balsamic, camphor-like, deep spicy, woodsy, and slightly lemony. Frankincense affects your 7th or Crown chakra. For practitioners, this oil can protect against energy drain. 
Recommended Use
Set your intentions and add a few drops to your water-based diffuser to create a relaxing mood, perfect for meditation.  Add a few drops to your favorite carrier and apply to the bottom of your feet to balance mood swings.
Frankincense essential oil is a middle to base note, blending well with basil, bergamot, camphor, cinnamon, cistus, geranium, lavender, neroli, orange, pepper, pine, sandalwood, vetiver. A good fixative, do not use more than 10% in blend.
Ingredients
100% pure and natural frankincense essential oil, free of any chemicals, pesticides, synthetic perfumes, fillers, or carrier oils
---