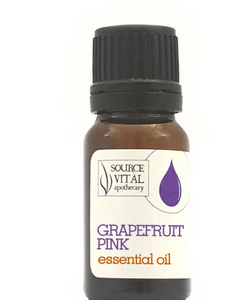 Source Vitál Apothecary
Grapefruit Pink Essential Oil
Regular price
$14.99
$0.00
Unit price
per
100% Pure Grapefruit Pink Essential Oil
Botanical Name: citrus paradisii. Let the citrus uplift your soul. Grapefruit pink is a happy oil that can ease your tension and frustration. This oil can clear heavy feelings and promote lightness of your spirit. Rich in antioxidants, primarily Vitamin C. 
This oil is sourced from USA. Aroma is fresh, light, citrus and slightly sweet. Yellow or greenish in color, this oil is extracted via cold expression from fresh peel. Blends well with Lemon, Palmarosa, Bergamot, Geranium, Cardamom, Neroli and Rosemary.
Recommended Use
Set your intention to uplift your spirits and add 2-3 drops to your water diffuser. Other ways to freshen your room include adding 10-15 drops to a spray bottle with distilled water or place a few drops on your AC air filter. Add a few drops to an unscented skin or body cream to marry this beautiful scent with some hydration.
Ingredients

Grapefruit Pink essential oil is 100% pure and natural. It is free of any chemicals, pesticides, synthetic perfumes, fillers, or carrier oils.
---