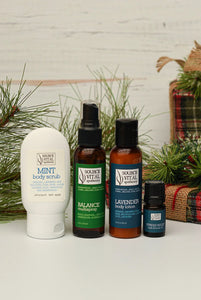 Source Vitál Apothecary
Holiday Body Care
Regular price
$17.95
$0.00
Unit price
per
A 'Love Your Body' Gift
Treat yourself this holiday season with our Holiday Body Care set! Indulge in a selection of bath oils, body lotions, and creams to pamper yourself or a loved one. Let cozy scents of the season fill your home and leave your skin feeling nourished, hydrated, and silky-smooth. 
Recommended Use:
Stress Relief Bath & Body Oil (.23 fl. oz.) - A multi-use essential oil blend that can be used to help relieve the feelings of holiday stress. Add a few drops into a warm bath, massage into your chest, or apply to hands and breathe deeply to deeply enjoy this aromatic experience.
Lavender Body Lotion (2.23 fl. oz.) - Perfect for use during holiday winter season or any time you need some extra soothing and hydration. Scented with our special Lavender essential oil blend, this body lotion with leave your skin feeling silky and hydrated. After bathing and patting dry, massage lotion to your damp skin. 
Mint Body Scrub (2.23 fl. oz.) - Made with our Peppermint Essential Oil and nourishing botanical extracts to give a gentle exfoliant to leave your skin feeling smooth and a light coolness. Apply to body using vigorous circular movements until skin feels smooth, rinse off with warm water. 
Balanced MultiSpray (2.23 fl. oz.) -  Our multispray is a blend of orange, blue tansy, lavender, and myrrh essential oil blend that will bring soothing warmth and comfort to wherever you spray. Spritz on your body, linens, room spray, or even in your car!
---