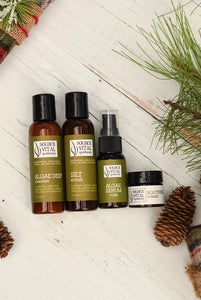 Source Vitál Apothecary
Holiday Skin Care Gift
Regular price
$17.95
$0.00
Unit price
per
Gift Glowing Happy Skin
Give the gift of skin care to yourself or someone else this holiday season. Pamper yourself or someone special with this expertly-crafted, luxurious all-natural skin care kit, designed to nourish most skin types with its four-step routine. Pamper them with popular products like Algae Deep Cleanse, Silt Scrub, Algae Serum Rose, and Soothing Cream. Indulge in luxuriously soft and smooth skin all season long.
Recommended Use
Algae Deep Cleanse (2.23 fl. oz.) - Discover the power of this deep pore cleanser to purify and revive all skin types. Start by applying to clean skin by using a damp sponge or wet fingertips. Use circular movements and work into a gentle lather. Rinse with water. 
Silt Scrub (2.23 fl. oz.) - Pamper the skin with this luxurious facial exfoliant packed with naturally occurring humic acids and powerful anti-oxidant properties to reveal the glowing complexion hidden beneath. Add to nighttime routine 2-3 times per week. First cleanse, and then apply a few drops of Silt Scrub to the palm of your hand and gently massage on your skin. Thoroughly rinse with water and pat your skin dry.
Algae Rose Serum (1fl. oz.) - Referred to as "gold in a bottle", this serum is great to add to any skin care routine. Packed with the most skin nourishing extracts, it's designed to soften and lessen the appearance of fine lines and wrinkles. Massage 2-3 pumps to face and neck, layer additional serums and moisturizers on top. 
Soothing Cream (0.64 fl. oz.) -  Enjoy this rich velvety cream against the face while knowing your skin is being nourished and cared for. This cream soothes and protects while helping to prevent environmental damage and signs of aging to the skin. Add to the end of your morning and/or nighttime skincare routine, apply a small amount of Soothing Cream to your face and neck.
---