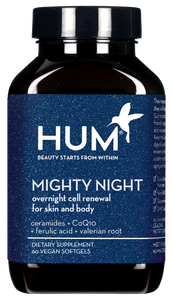 Hum Nutrition
Mighty Nighty
Regular price
$40.00
$0.00
Unit price
per
Promote skin cell renewal overnight
Take these supplements and amplify the work your body is doing while you sleep. Mighty Night helps support skin cell turnover, encourage optimal sleep and improve skin tone. Sweet dreams, here you come! 
Contains wheat (wheat ceramides are certified gluten-free). Vegan product.
Recommended Use
Take two softgels in the evening at bedtime, with or without food. 
Ingredients
valerian root extract, trans-ferulic acid, passion flower extract (aerial part), ceramosides wheat seed extract oil, hop flower extract (humulus lupulus l, ubiquinol (kaneka qh ubiquinol), vegan softgel (modified starch, glycerin, purified water and caramel), sunflower oil, sunflower lecithin, peppermint oil, candelilla wax
---