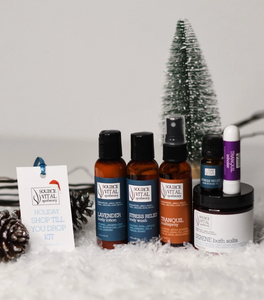 Sanctuary Spa Houston
Shop Till You Drop Kit
Regular price
$24.95
$0.00
Unit price
per
Bath, Body and Spirit Self-Care Kit
While more of your shopping may be happening online this time around, you and your loved ones definitely need these self-care products year round! 
Create your spa rituals at home and get some reprieve from outside concerns.  Made with natural, good-for-you ingredients and perfect to fit in a stocking.

Recommended Use
Lavender Body Lotion (2.23 fl. oz. ) – Lavender-infused hydrating body lotion. Perfect for that dry skin winter weather brings on. Baby, it's cold outside!

Stress Relief Bath & Body Oil (0.23 fl. oz.) – Breathe this aromatherapy deeply and exhale your stress. Add to your bath for some extra relief. 

Stress Relief Body Wash (2.23 fl. oz) –  Use in the shower or bath, breathe deeply.

Tranquil MultiSpray (2.23 fl. oz.) – This relaxing and calming spray is great to spray on your bed linens or body, wherever you need to reflect some tranquility.

Serene Bath Salts (4.4 oz. net wt.) – Soak in these soothing Serene Bath Salts. Add 3-4 tablespoons to a warm bath, breathe deep, and relax for 20 minutes – or even longer.


---