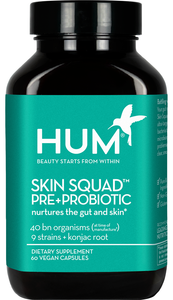 Hum Nutrition
Skin Squad Pre+Probiotic
Regular price
$40.00
$0.00
Unit price
per
Nurtures Your Gut and Clears Your Skin
Clear skin starts from within and, more specifically, with a healthy gut. Hum's proprietary blend is the first pre+probiotic formula to support clear, even complexion by balancing the gut microbiome. Formulated to aid in clearing up acne-prone (non-cystic) skin. Billions of ultra-targeted shelf-stable good bacteria that nurture the gut microbiome can help rescue problematic skin, and support a clear, smooth and even skin tone.
Contains no wheat, gluten, soy, milk, egg, fish, crustacean shellfish, peanuts, artificial colors, flavors, or artificial preservatives. Vegan product. 
Recommended Use
Take two capsules, at any time, with or without food. Contains a 30 day supply.
Ingredients:
Live strains: Lactobacillus Acidophilus La-14, Lactobacillus Paracasei Lpc-37, Bifidobacterium Lactis Bi-07, Lactobacillus Salivarius Ls-33, Lactobacillus Rhamnosus HN001, and Bifidobacterium Lactis Bi-04. Prebiotics: Konjac Root Extract. Soil based: Bacillus Coagulans SNZ1969 and Bacillus Subtilis DE111. 
---